unbelievable !!! people just are`nt affraid of getting shot now days ..

iv`e used up all my sick days at work .. can i call in dead ?

---

you are not going to believe this but it has been returned. we found it beside the house. someone must have needed to borrow it. life is strange
---

[QUOTE=pat mccarthy]" i have floaters nothing you can do for them"


Well, actually, Pat and Hoss, there IS something that can be done for "floaters" if you want to go through with it.

I had some torn retina problems a few years back which were spot-welded with a laser which took care of them, but before they were fixed some blood got into the Vitreous (that's the liquid stuff inside the eyeball). As a result I was seeing a big blurry spot that moved around and a few "UFO's" and a tadpole looking critter that ran around in one eye, and an upside down horse shoe looking thing in the other one. I don't remember ever not having some minor floaters but they weren't particularly bothersome.

Well, mine got so bad I damn near flunked my last drivers license eye test, so I decided it was time to squawk about it.

There is a surgery called a "Vitrectomy" to solve the problem. (Not "vasectomy" ..... that's something else entirely.)

What they do is enter the eyeball and pump out all the aforementioned "vitreous", and with it all the UFO's, tadpoles and other stuff, then replace it with another fluid (SAE 30 weight?).

Are you still interested? It's a scary prospect. I'll admit that it took me a while to get sufficiently psyched up to do it, but, Hoss, let me tell you. I had the first eye done last September and the other one last November, and now every time I go outside on a clear day I'm astounded all over again about how great my vision is. Absolutely clear. NOTHING else to be seen, and I love recommending the procedure to my geezer friends.

Fortunately my insurance covered the lion's share of the expense, which was probably heck of a lot. I have Medicare plus an additional policy.

I may be able to help you if you have questions....... and you're bound to have some ...... so shoot me a PM if you like.

Oh, and I agree with Brian. Aveeno products are great. I use the lotion.

Good luck!


Jim
---

Same thing happened to a friend of mine. He went in to answer the phone, when he came out his fully loaded roll-away and top box were gone.
---

For floaters you might try the stuff Paul Harvey pushes.
I think it is called Hi-Health ocular nutrition.

Yea, the years are definitely starting to add up.
Scott
31 Ford five window
---



Originally Posted by

jyardgirl

good thing you did`nt follow my advice and shoot first then ask questions
as far as my eye floaters i guess i can live with them a bit more before i would have surgery done ..
iv`e used up all my sick days at work .. can i call in dead ?
---

what should i expect to pay to have my front seats re-covered for my pinto .. just simple black vinal .. i`m tired of sitting on springs ..
iv`e used up all my sick days at work .. can i call in dead ?
---



Originally Posted by

HOSS429

i`ll let you know !!
just when you thought it was safe to go outside !!!.. everything old is new again .. kids today think they invented the way they act ,, not hardly .. wearing pants way to big for them and having them stay around their knees .. i did that in the 60`s .. cause my pants were hand me downs from older bigger brothers .. just mama put belts on us to hold them up .. talking with the nastiest of language you`ve ever heard .. every other word the F word .. people in my youth did that .. we called them thugs and hoodlems ..trouble makers you didn`t want to hang around ..driving around in circles spinning tires .. they call it drifting nowdays .. we called it having fun on gravel or dirt roads .. even smoked up a few church parking lots now and then ..what we didn`t have was so many kids driving over 100 mph everywhere they went ,, driving while trying to text messages or playing video games at 80 mph or just plain driving fast is foolishness ..their little fart can cars dont have enuff power to turn a tire so they think being fast and furious is the thing to do .. so many of those little crosses on the side of the highway around me .. at curves where they go too fast and leave the road .. at stop signs where they hurriedly pull out in front of someone ..in store parking lots where they are looking at some friends instead of where they are going ,, i watched a girl i know who was chasing some boy in a truck .. he cut just seconds in front of a dump truck trying to get away from her .. she didn`t even look at oncoming traffic .. she just followed the back bumper of that boys truck .. luckily the dump truck driver anticipated what was about to happen and he was already slamming the breaks and changing lanes .. missed her car about two inches .. i scolded her later and she just disgustedly said " so what " nobody would have cared . another girl ran a stop lite to try to catch another car .. she was hit by an ambulance of all things .. she didn`t make it ..i had some shots of some of the crosses but i must have gotten rid of them ..
iv`e used up all my sick days at work .. can i call in dead ?
---
somebody please shoot me

you ever had one of those days . ( or several in a row ) something is at work trying to dampen my eternal enthusiasm.. i about blew the motor in my mustang doing a burnout yesterday .. my V8 pinto has decided it wants to flood the carb now .. my V6 is sitting in the yard a wont start for some reason ,, my truck quit on me at the sonic this morning .. finally did start back after sitting there freezing for 30 minutes .. something in the electric fuel pump.. or it may have something to do with that 20 feet of smog plumbing and 40 electrical switches i yanked off earlier this week when i was putting a valve cover gasket and an oil pump in it .. iv`e been thinking about a new car for several weeks ... may be about time i got one .. i dont like stuff i cant depend on .. if i can get one of them to town i may get rid of it .. or git rid of the whole bunch of junk and start fresh .. i`d kind of like a 65 coupe stang all black and with GT trim ..but i will patch up my junk and go forth i`m sure ..the sun has popped out ,, birds are singing .. things are looking up already ..iv`e been off work all last week .. perhaps a call in sick monday is in order .. supposed to be near 70 .. by the way .. if you`ve never tried soy milk give it a try .. it`s delicious .. the vanilla type .. im` off regular now
iv`e used up all my sick days at work .. can i call in dead ?
---

With the cold weather we have had . My every day cars will need work ASAP when the warmer weather is here . But for now you should fix the Easiest one ? Pinto V6 maybe ? And when doing them smoke shows . Don't Rev-it-up so High
---

Yup, had those days!!!! Only good thing about being all crippled up is that I no longer have the hassle of being at the big shop everyday keeping an eye on things and the people who allegedly worked there!!!! Now it's 20' out the back door to my little garage with nothing in there but Tom's coupe and my stuff... If the car doesn't want to start in the morning I wouldn't even know, got no place to go anyway as the coffee shop used for Monday morning coffee with the guys is well withing the 2 block walking distance rule....Rule is, if it's not within 2 blocks, I don't have to bother going there til the weather gets nice!!!!

As for the 70 degree stuff, forecast here is for freezing rain turning to snow on Monday........I'm jealous!!!!!
Yesterday is history, tomorrow is a mystery, Live for Today!
Carroll Shelby

Learning must be difficult for those who already know it all!!!!

---
57 rats in hazel green

been seeing this thing around town some lately .. come to find out it`s a guy i know .. says he`s a member on the HAMB site and a rat rod site .. i invited him to come look at our site ..
---

I'm at my younger brothers shop working this week, We build Investment molds there, at my older brother we specialize in airfoils, we build turbine blades & auto Turbo's and a complete line of HP parts for Supra's and Mitsubishi's, Lexus.
But any way, I asked if he got the dirt track car running, he said ya, runs good........now! I said Oh? He has been showing his son how to build a motor, and when he started it, it went clank, pop, bang, clunk, pop, bang, pop, pop, pop! , He forgot..... he milled the head & manifold .100 while ago and hit & bent every valve, with flat top pistons
He put some other heads on for now.

Pat
HemiTCoupe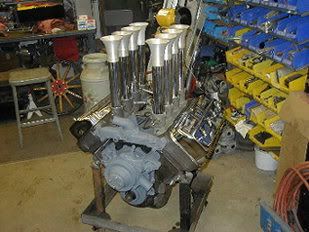 Anyone can cut one up, but! only some can put it back together looking cool!
Steel is real, anyone can get a glass one.

Pro Street Full Fendered '27 Ford T Coupe -392 Hemi with Electornic Hilborn injection
1927 Ford T Tudor Sedan -CPI Vortec 4.3
'90 S-15 GMC pick up
---

i drive to work each morning at a leisurely rate as i`m always 20 or more minutes early ( havent been late to work in 18 years ) .. but going home in the evening is a dif matter .. one evening in my haste to find the recliner and remote i saw miles ahead that traffic was backed up due to an accident .. i immediately begged permission from a fellow in a yellow chevy truck to let me cut over a lane and do a bat turn and go back to an alternate route home .. even though it would be 15 miles out of the way it certainly was faster than pokealong wreck rubbernecker traffic.. no sooner than i had gotten on my other way home it also was tied up in a snarl .. about an hour of creeping and hunting every cutoff and shortcut i could find i made it back to the main road happily finally to get back to heading where i needed to be .( at the beer store ) .. just as i pull up to make the turn there sat the same yellow truck that had let me get over just down the road a bit .. my haste to get home didn`t gain me one inch
---
miss a little - loose a lot

my super slower than ever home system would not even stay online long enuff for me to open a thread so i have a lot of catching up to do this week .. this place is really jumping lately the first car show in the area will be this weekend and it mite be warm enuff that i will go .. last two years it still was freezing ..i still dont know how much i can be online at work without my connection being severed ..
---