Originally Posted by

Dave Severson

Can you say LS1, LSX, & Z06 ?

I just thought you'd like to see what Ford guys think about a LS1 (a 346 not a 350) in a Mustang! http://www.mustangforums.com/m_1896216/tm.htm

Pat

HemiTCoupe



Anyone can cut one up, but! only some can put it back together looking cool!
Steel is real, anyone can get a glass one.

Pro Street Full Fendered '27 Ford T Coupe -392 Hemi with Electornic Hilborn injection
1927 Ford T Tudor Sedan -CPI Vortec 4.3
'90 S-15 GMC pick up

---



Originally Posted by

HemiTCoupe

Yes,it reminded me a lot of the Corral forum where everyone and his brother have 331/347 with a cam much like the Ford "B" cam and they are still using the stock Ford 5.0 block and making 525+hp.L.O.L
---



Originally Posted by

HemiTCoupe

i was going to tell dave ls1 but i forgot i did work on a ZO6 and re cam soild roller head work T@D rockers and headers the car had some other things done but anyways it did not do much at 1000 rpm would hardly stay running must have been a bad cam but if you got in to it hard if would go like hell and blow the cup race tires off the car. the car was a road race car but would take out alot of street/ strip cars
Irish Diplomacy ..the ability to tell someone to go to Hell ,,So that they will look forward to to the trip
---

I'm always for swapping anything into anything just to be different.

But this summer I saw a Kit Cobra at cruise night which seems to be the latest yuppi hot rod around here. I wasn't going to look at it but went over anyway. Well it had a sbc in it and that made me want to puke.

here's one from the web. Don't know if it was real or photoshopped.

Flathead_57%20Chevy0.jpg

Here's one I saw at a show a couple years ago that had a sbf in it
ford in chevy1.JPG
Dan
=====
1971 Camaro
1963 Falcon
1959 F100
1956 Bel Air (wife's)
1940 Ford PU
1939 Ford PU
---



Originally Posted by

HemiTCoupe

So, maybe you thought a Mustang forum would be in favor of swapping a chebbie engine into a Fox body????
Yesterday is history, tomorrow is a mystery, Live for Today!
Carroll Shelby

Learning must be difficult for those who already know it all!!!!

---

Noah will be building a ARK soon .
---



Originally Posted by

bluestang67

Well,I don't think it has gotten that bad.
I did see a early 90's Honda Accord that someone had but a sbc in this past summer.
---

Specs: 240/244 608/598 112

Vehicle Mods
2002 Ws6
SLP Lid (K&N)
SLP FFRA
Gran MAS
BW ported TB
ASP Pulley
SSauto 1 3/4 headers
QTP Ypipe
Flowmaster CB
4.10 gear (8.8 rear)
42lb inj

All numbers SAE corrected. Uncorrected were 459/430


---



Originally Posted by

Dave Severson

I don't see where I said anything, about it being for or against it!

Pat
HemiTCoupe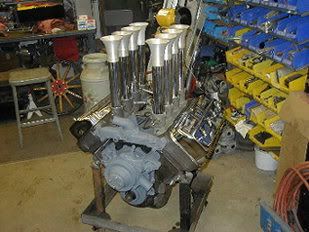 Anyone can cut one up, but! only some can put it back together looking cool!
Steel is real, anyone can get a glass one.

Pro Street Full Fendered '27 Ford T Coupe -392 Hemi with Electornic Hilborn injection
1927 Ford T Tudor Sedan -CPI Vortec 4.3
'90 S-15 GMC pick up
---

Hemi i hope to never see a anything other then a Ford in a stang . Its a machine with its own distiction . As a hot rod site its approved to make the mods or install what you have in parts in your garage , but even with that i'm installing a Ford in a Ford . To me a 50's or newer should be of it's brand name with no mods . In 30 years then whats available will be open court for the times.
---

there was a guy at the track this summer took a fox body put a sbc in it, used s-10 headers ran them forward and had reducer pipes in front of the front wheels under the front bumper said that way he didnt have to worry about firewall clearance, sure was interesting!
---

I had a 1969 GTO that had a 400 360HP . Well one night I threw a rod . And this was my only car so . I did some looking around for a Pontiac engine . No luck but my brother had a wrecked 1970 Chevy in his yard ! That week end I parked the GTO next to his Chevy and switched every thing chevy to the GTO . I did not have to buy a thing I used the chevy headers mounts frame tabs trans drive shaft hoses . That Chevy engine was a 350 250HP . It ran good and got me to work on monday . But it was way down on power from the Pontiac 400 . But still was a nice street car and ran high 14teens with the 355 Posi with much better MPG .
---

you could always get the new <re-production> zl1 427 coming out what a beautiful motor
Last edited by gassersrule_196; 12-04-2007 at

02:47 AM

.
---

do it but go with an older 302 or a mustang gt engine.i'v been putting engines in chevys all my life with great results.my first was a 425 cid nailhead buick with 2x4's and a muncie 4-speed in a 56 chevy 210,even put a supercharged 289 studebaker v-8 in a 55 convert. so any thing is possible.presently working on a 55 sedan puiiung a 65 400 olds with b/w t-10 in it shold be a gas when i finish.
---

"Do it?" Last post, 2yrs and 8 days ago. What's up with that?
What if the "Hokey Pokey" is what it's really all about?
---