Is this a good sign??


It's been two days since I sprayed my urethane primer and I still can't get it off. I tried scrubbing it with acetone and a brush and it just turned red and hurts now . Is this a good sign? I guess I'll have to grow it off like the POR15 I had on my hands a while back.

Sean

---

Those are called "Awards" You get them from doing something yourself!

Pat
HemiTCoupe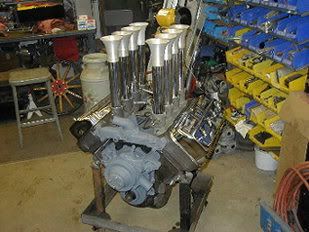 Anyone can cut one up, but! only some can put it back together looking cool!
Steel is real, anyone can get a glass one.

Pro Street Full Fendered '27 Ford T Coupe -392 Hemi with Electornic Hilborn injection
1927 Ford T Tudor Sedan -CPI Vortec 4.3
'90 S-15 GMC pick up
---



Originally Posted by

HemiTCoupe

Now that's a good one, I'll have to remember that!!
---

I know what you mean, POR 15 welds to your skin as does the epoxy primer. A little acetone immediately after painting does a decent job on most things, getting the paint off.
"

"No matter where you go, there you are!" Steve.
---
---



Originally Posted by

stovens

I worked until 3am and fell asleep letting it dry for about 10 hours before I noticed it .

I like that too, "Awards", kinda like all those sheetmetal slices on my hands, and burn marks on my ankles from welding while sitting on the floor.

Sean
---

I painted the entire underside of a car one time with a product called "Trailer Coat." It is a urethane based primer that is designed to be painted onto boat trailers. It is also packaged as "Underwater Metal Primer" and goes on propeller shafts and rudders...............it is very tough stuff.

I worked in only shorts, no shirt, and the stuff was dripping and splashing all over me. When I got done I tried laquer thinner to get it off........nothing. Then I tried acetone.........still not coming off. I tried every solvent in the shop and it didn't make a dent in getting it off. For three weeks I wore this stuff all over the top of my head, my face, my arms, etc. Everybody at work was laughing at me everytime they looked at me.

Oh, after I got done I read the instructions on the can, they read "Do not get this product on your skin or it will take 3 weeks to wear off!"

Don
---



Originally Posted by

sgo70

At least you remembered to put the hardener in


Dirty thinner works best to take it off, unlike POR15 which takes 5 weeks and 3 days to wear off your skin


Bill S.
Instead of being part of the problem, be part of a successful solution.
---

Kinda sounds like the time I got my first wife to stain the deck at our cottage--on a really hot summers day---in her old bikini, so she wouldn't ruin any good clothes----"Don't worry dear, you can wash it all off down in the lake when your finished---Here's a bar of soap." Or the time I dyed my mostly white beard a mint green with food colouring at Halloween----Damn, I got some funny looks for the next 3 weeks---Brian
---

I like the bikini idea. I'll have to see if my wife is game!
"

"No matter where you go, there you are!" Steve.
---