block huggers


Wanting to pick up a set of cheap huggers for the sbf just to have if the original shorties create to much problem at exhaust time . One issue i'm looking at is where the collector dumps its going to be real close to firewall even with insulation am i going to get hot feet. Will move engine forward since new serp belt done added lotsa clearence . Other may be the steering assembly (thanks to all who gave pics in my thread again) I picked up some doll rod got the borgeson universal for the rack to mock when engine gets moved forward. Have some pin and block universals to help in mock better then tape same size in dia. and length and where free . Order borgeson once im for sure what i will need.

The shorties i have are with the square port that matches heads . Some i see on line are oval port and dont match . Is this a real problem or will they be ok once mounted. Alot of pics dont allways show ports .

One more thing is i see some that the collector is very long and looks like pipe will be way below oil pan when installed losing criticle ground clearence . Some adds just place a reference pic and not actual and it gets confusing at times.

Pic i know you've seen em but i still like em . It still amazes me that i've had the oppurtunity to do this in my life .

Last edited by bluestang67; 03-26-2008 at

06:24 PM

.

---

Most of the Ford one's I've seen are made to fit the Mustangs and dump at the back, sometimes too far back for firewall clearance.... Have you looked at a set for an F-150? I saw a set on a guys pickup and the dump was a bit more forward then the one's you have pictured.... If I ever see the truck around again I'll ask the owner what brand they are....
Yesterday is history, tomorrow is a mystery, Live for Today!
Carroll Shelby

Learning must be difficult for those who already know it all!!!!

---

Dave great pic would help give me help to see where difference would be . Havent seen them in searches but never know they could have been there .
---

Y s are EZ to make and work great i have made some sets great when you do not have much room have a set on the 50 chevy. you may want to look at mac headers nice stuff
Irish Diplomacy ..the ability to tell someone to go to Hell ,,So that they will look forward to to the trip
---

See the F150 or smilar with the collector forward may be just the ticket i need . I think im beginning to see some of the modern equipment and engine parts are going to make this 5.0 in the A a lot easier . Also i can see you have to work the science out when you are changing the norm . Which these parts houses were doing that and not for just the sbc .

Still have to find some specs and see width and collector location when installed . Or get some of a idea .
---

Add 10 characters my a$$.

Where and lost your post and links was there missed saving to favs .
---
HemiTCoupe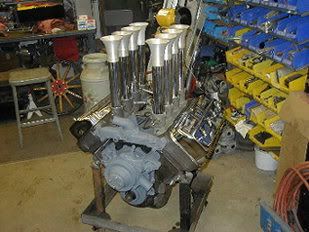 Anyone can cut one up, but! only some can put it back together looking cool!
Steel is real, anyone can get a glass one.

Pro Street Full Fendered '27 Ford T Coupe -392 Hemi with Electornic Hilborn injection
1927 Ford T Tudor Sedan -CPI Vortec 4.3
'90 S-15 GMC pick up
---

I'm using $265 Sanderson's on my project - they were originally uncoated but are now Jet Hotted. They do not extend below the pan by very much though it did take a bunch of fit up time to make 'em work that way.
Last edited by IC2; 03-27-2008 at

05:20 AM

.
Dave W
I am now gone from this forum for now - finally have pulled the plug

---

Hemi yeah there anemic in power its just the look i would rather have . My plugs are in the side of the head and chambers are round .


Ireland same i want to run the shorty for its look and difference to the huggers if i can find something . Dave had the truck idea and searching they do have the ones that should work . This would keep heat a bit furthar away from firewall. The styles vary so much on different years may have to use right from one yr and left from another . I dont live in truck country but there is a few in the u pick it from time to time . Hope i can find something used for it untill i get it all figured out .
---

I think i found them 87 to 96 F150 but then again is pic a reference
---