yes that is the linkage i have. there instructions say it can be either way progressive or 1:1. depending on how you set it up. i have called there tech line numerus times and can never get a straight or the same answer on how to tune or set up, first it was 2 turns out on bolth, the next time it's 1/2 on front 1 1/2 on rear. then it was 3/4 turn on all. so i set it up 1/2 on front and 11/2 on rear progressive.
my problem now is i talked to a performance engine builder and he said never run progressive unless there is a center carb to even out the fuel or you will damage the motor due to a lean condition in the front (if the front is secondary) so now i dont know what to do.

---

ok, so for ideling i sould set all the idel mixture screws the same, and have the primary carb open a little before the secondary carb. If i do it that way witch carb should control the idel speed or should i use idel speed on bolth set at the same.

P.S. if i did not mention it before thanks for all your help..
---

OK, thanks again tommorow i'll try some different settings and i will let you know how i made out..thanks
---

Alot of things are needed to tune it, what type of build is the motor, stock, mild cam, street, race. I ran my cars 2x4's on a tunnel with progressive (not much), on the street, and on the boat with 1:1 with 2x4's on a blower.
I use a synchronizer ($15.-$25.00) and set them the same, 1st you need to set the carb Idle stop screws to what the book say's, you should not have to move them at all, if you do, don't go past the idle ports, or it won't idle right, and or hesitate. Then you start the motor and sync the carbs to the same vacuum, then turn your mixture screws evenly to set the idle, keeping the vacuums the same. once your there, you should be able to use either set up, you may have to back down your accelerator pump shots depending on you motor & or your jets. I don't know what jets you have, or need for your motor, but odds are you need smaller ones.
I adjust everything with the linkage off 1st, the I put it back on and make sure it still idles the same. After you get it tuned you can use the linkage both ways and see which you like best. You'll probably end up with 1:1

Pat
HemiTCoupe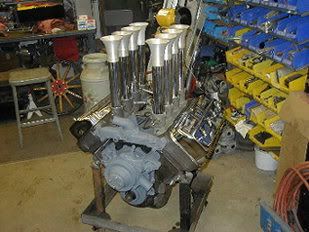 Anyone can cut one up, but! only some can put it back together looking cool!
Steel is real, anyone can get a glass one.

Pro Street Full Fendered '27 Ford T Coupe -392 Hemi with Electornic Hilborn injection
1927 Ford T Tudor Sedan -CPI Vortec 4.3
'90 S-15 GMC pick up
---

"....Alot of things are needed to tune it, what type of build is the motor, stock, mild cam, street, race....."

What Pat says is very true and some other things that need to be taken into consideration as well are vehicle weight, converter (if automatic), gears etc. Basically there is no one size fits all, each combination will react a little differently. On every dual quad setup I have run on my own stuff I have experimented with both synchronized and progressive to see what the car likes best. Some have liked one and some the other (and I have never hurt a motor by running progressive).

Denny has some good tips on the initial tuning set up. One thing I would like to add is to NOT be concerned when setting the idle that all the adjusting screws are turned exactly the same amount. Slight variances in the individual idle circuits and the way the fuel mixture flows thru the intake may require that one screw is adjusted a bit different than the other.

Basically every combination will be a little different and need various tweaks to get the most out of it. Don't be afraid to experiment once it is dialed in you'll love it.
I've NEVER seen a car come from the factory that couldn't be improved.....

---

Thanks guy's , the motor is

350, bored 40over.
edelbrock heads- 9.3:1 comp ratio with my pistons.
edelbrock cam Duration at 0.006" Lift: Intake: 278° Exhaust: 288°
Duration at 0.050" Lift: Intake: 204° Exhaust: 214°
Lift at Cam: Intake: 0.280" Exhaust: 0.295"
Lift at Valve: Intake: 0.420" Exhaust: 0.442"
Timing at 0.050" lift: Open Close
Intake: 5° ATDC 29° ABDC
Exhaust: 44° BBDC 10° BTDC
Lobe Separation - 112° Intake Centerline - 107°
metering rods have been changed (smaller) as per edelbrock.

I was just nurvouse , because i was told by edelbrock to run the rear carb at 1 1/2 turns and the front at 1/2turn (on idel mix screws) and now i'm hereing that could damage the motor because the front cylinders will be to lean.
so now i'm going to set it so bolth carbs are the same in the idle cuircut and runn a small amout of progresion like denny say's.

were can you get a carb sync tool for 4bbls iv'e seen them for 1 & 2 bbls?
Last edited by Dean C.; 02-20-2008 at

04:50 AM

.
---

Does your intake have a big plenum?

If so, seems the rear carbs primaries are very near the center and the A/F (Air/Fuel) mix should be fairly evenly distributed.

I don't see any problems with running progressive as long as it's a good product whether bought commercially or home-made.

I've seen the Edelbrock dual carb progressives on a couple of cars . . . nice product, well made, no complaints about throttle linkage from the guys who were using them.

If you're set up to do it, I'd make a progressive linkage my own self, something along the lines of what Edelbrock has done with two sliders on the linkage.

Be careful about progressive linkage, there's some real junk out there and some of it is potentially dangerous.
Couple years back I made a fuel log for an SBC in a well done 57 Chevy show truck running three 2 bbls.
The progressive on it was nothing more than bent wire.
Even the slider was a loop of bent wire.
Chrome plated - BFD - but it looked dangerous to me.
Commercially made by I don't know who.

That said, I like to run straight linkage on multi-carb setups.
The dual quads - 500 cfm Carters - on my 462" Buick ran great, 600 rpm idle with a fairly big cam, good tip-in on the secondaries which seemed to come in one after the other and not both at the same time.
Fun setup.

Here's some pics of the basic linkage, home-made with stainless steel and quality Heims.
Cost under $25. including the throttle rod to the gas pedal.






Last edited by C9x; 02-20-2008 at

06:54 AM

.
---

Sorry about the linked pics.

They're from PhotoBucket and every once in a while on this site instead of showing the photo directly they end up like this.

~~~~~~~~~~~~~~~~~~~~~~~~~

Since you'll be running with a reasonably light load on the engine when on the rear carb only, a lean mixture shouldn't hurt those cylinders.

At the horsepower levels most street driven cars run at, making a full 1/4 mile pass at the dragstrip with a slightly lean mixture doesn't seem to hurt anything.
Seen that done more than a few times.
---

i'm using the complete edelbrock set up, it's running pretty good now. i just did not want to hurt anything. i bought an air fuel monitor from edelbrock and put it in today tried a couple of different things today, it seemed to work best with bolth carbs on the idel cuirut almost even.

thanks for al your help guy's
---