Pull all the rockers, get all the valves closed. Take out the plugs, and make an adapter that will take the end of a high pressure washer. Give each cylinder a blast of that, and it'll break the pistons loose. If it's not really rusted, just a rubber end on the wand will seal good enough sometimes.

---

I don't think I would use water in the cyl's, if it doesn't work or if it does work, you have your worst enemy (next to metal shavings) for a motor in your cyl's & block!
I would pull it apart 1st.
If it's a stick, give it a shove and pop the clutch in 3rd or 4th gear.

Pat
HemiTCoupe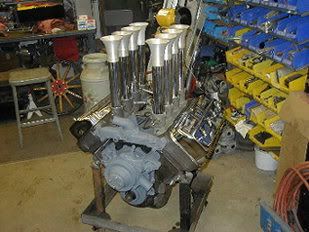 Anyone can cut one up, but! only some can put it back together looking cool!
Steel is real, anyone can get a glass one.

Pro Street Full Fendered '27 Ford T Coupe -392 Hemi with Electornic Hilborn injection
1927 Ford T Tudor Sedan -CPI Vortec 4.3
'90 S-15 GMC pick up
---

I have read of people making an adapter that screws into a sparkplug hole, finding a cylinder that has both valves in the closed position, and filling that cylinder with hydraulic oil. They then take one of the lever activated hydraulic pumps, similar to the pump in the base of a cherrypicker hydraulic cylinder, and gradually pump up hydraulic pressure in the cylinder untill it breaks free. I have never done this, but it seemed like a novel and rather logical approach.----Brian---Funny story---I had an uncle back in the early sixties who bought an old Fargo half ton truck with a frozen flat head 6 cylinder in it. It was frozen from setting for about 15 years. He pulled the plugs, filled all the cylinders with deisel fuel and left it for a week. Then with the plugs still out, he chained the old Fargo up to the back bumper of my old Chev car, and told me to "get the Chev up to about 40 mph on a paved road, and he would set in the truck with the tranny in high gear and the clutch in". When I reached 40mph, I flashed the lights, and he dropped the clutch. It broke the motor loose, but it bent about 5 valves that were frozen into the guides. Not one to be easily daunted, my uncle went out in the shed, had a drink of white lightning, then pulled the head off and pulled the offending valves. He used some emery cloth on the valve stems to get the rust off, got out his 5 pound hammer, and straightened the valve stems against a big old hardwood block, untill they 'looked good", then using the same head gasket and lots of gasket shellac, he reassembled everything. the truck ran good, but---NOISY---My God, you could hear that truck coming from 5 miles away, the valves clattered so badly. He drove that old truck for about 5 years before the motor actually gave up.
Last edited by brianrupnow; 02-16-2008 at

02:31 PM

.
---

If it's as bad as he said . Better to pull the engine out and remove the heads before he damages the engine more then it may be all ready .
---

I went by this morning and took the suggestions up to that time and saw the engine. The head has been pulled It's a '61 inline 6, wet cylinders, dbl points, 2 plugs/cyl. We poured some Sea Foam in each cylinder. We dragged the car with no results other than two black marks across the pavement. The cylinders look clean. No rust.
I thought I was broke 'til I bought a streetrod
---

If that engine is as rare as indicated, haul it out to an engine stand and disassemble it carefully. Yes, I would continue to soak it fully with something like Kroil/ATF/WD-40 to try to break it loose, but my guess is that the iron rings may be rust frozen solidly to the cylinder walls - and without knowing what this engine is manufactured from - aluminum with iron cylinder bore liners (most likely), you may have an entire engine full of fluffy white crap which is oxidized aluminum. Yanking and twisting may damage it beyond any reasonable economic repairs and hope - after 30 years of neglect.
Dave W
I am now gone from this forum for now - finally have pulled the plug

---