I have the same problem with our 37Chrysler royal 4 door.I am getting it ready for paint don't want any late model pearls on it I am looking for more traditional colours,some thing out of the 50s but not black.and not 2 tone.I have been painting cars since the 60s.Any sugestions wellcome.

---

I love white on some cars.. Unfortunately when folks see white they assume the car is a rag being covered up with white paint.. I have also found that bright yellows blow your eyes away and you can't focus on the flaws in the car at all..Lemon twist yellow is unreal for that....
---

Look up what you can on "psychology of color" on the net. Different colors give cars a different personality. Red is exciting....purple is exotic....blue is soothing.....black is sinister.....white is purity.....etc.

Then decide what personality you want the car to have.
---

I also like white. Nicest white in my opinion is Colonial White from early 60's Fords, Falcons, etc. Very mellow.
PLANET EARTH, INSANE ASYLUM FOR THE UNIVERSE.
---

I always called that 64 ford white...Before the wimbledon white... I like it too
---

what was it HOTRODPAINT been a long time the GM white was code 10then 12or11 then code40 love them i had the PPG paint deck for that white 1 inch thick for GM white.it was like playing Russian roulette you never knew what you were getting from the paint store or what GM painted the car with
Irish Diplomacy ..the ability to tell someone to go to Hell ,,So that they will look forward to to the trip
---

Code 10 was a pretty bright and clean white. If you want an absolute "bright white", ask for "base mixing white". It has no tints added.

I would agree that a softer white is more pleasing, like Ford's "Wimbledon White", and a classic ivory or cream color looks more like what was used on cars of the '50s! This is something we don't think about, but will give a car that "classic look".
---

Just catching up on my neglected reading, here. You have heard all of the pro's and con's of white paint; I couldn't add anything, the experts have had their day. But, I saw mention of flat red, and it struck a note in my mind. In years past, I have seen a flat red paint job done by a buddy; it came out looking sort of pink. He used a good basic apple red, and added flattener to it, nothing else. I think the flat component took some of the red's reflective qualities away, and allowed whatever white component was in it to come out. It just did not look the way it was supposed to.
---

What makes it look lighter is that the flat finish creates kind of a whitish haze on the surface....and when you combine white and the underlying red, you will get a lighter (or pinkish) look. Of course, other colors will look lighter, too.

I don't think you can correct this, by using a darker base, but a couple test panels might help some, by getting a preview of the appearance of the finished color.
---

Sgo70, white does hide pretty good and have seen alot of nice cars painted white. You could always mix in a little pearl in the clear to make it look like you choose a white, not to hide your body work skills, like you planned it that way Lets see some picks on white cars. Plan on painting my model a some kind of white, with some solid color blue metal flake flames(.004) outlined with a blue a lighter blue pinstripe. Any ideals on colors of white or blues?
Man your model a is lookin good, so pearl mixed in with the clear would bring the white out too.
1930 model a , 1953 ford truck
"DOWN WITH THE SICKNESS"
---

Each color adds a psychological element to the cars personality. White looks "unmolested"...black looks sinister or expensive...red is exciting...blue is dreamy...purple is exotic....and so on. Picking a color can make it intersting, or uninteresting, but it should fit the character of the car. If it's got a blower and giant tires, you probably don't want beige or light blue....if it's a dreamy custom, you probably don't want lime green or orange. Try to picture it in your mind, before you make a choice.
---
HemiTCoupe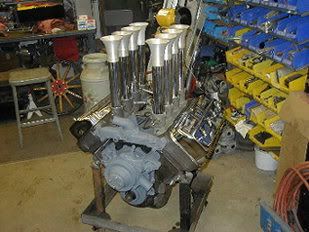 Anyone can cut one up, but! only some can put it back together looking cool!
Steel is real, anyone can get a glass one.

Pro Street Full Fendered '27 Ford T Coupe -392 Hemi with Electornic Hilborn injection
1927 Ford T Tudor Sedan -CPI Vortec 4.3
'90 S-15 GMC pick up
---