serpentine belts/440


has any body ever seen a after market serpentine belt set up for a 440? i'm putting this in a 37 dodge and i don't have MUCH room and think this would look good as help the with the space? i'd like to find 1 so i can mount it and every thing on it to see how far forward i can place the motor.

---

thanks. kind of proud of there parts. thats 1100 more then i have in the car so far. but i think i'll have to go that way if i want to get it to work .
---

Granted a 318/360 is not the same size block but I think with a bit of ingenuity you could make a system from one of those work. Check out the Dodge Dakotas and the full size trucks.
Ken Thomas
NoT FaDe AwaY and the music didn't die
The simplest road is usually the last one sought
Wild Willie & AA/FA's The greatest show in drag racing
---



Originally Posted by

NTFDAY


I agree,
I don't like the way that one is designed, you don't want 4 idle pullies, and a tensioner pulley & there has to be a lot of tension on the belt to have a good hold of that water pump.
It's a waste of money & space for only a water pump & alt.

I give it two thumbs down!!!

Pat
HemiTCoupe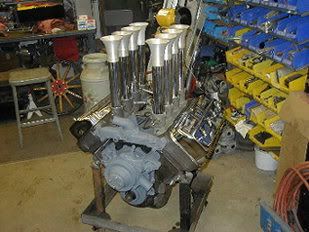 Anyone can cut one up, but! only some can put it back together looking cool!
Steel is real, anyone can get a glass one.

Pro Street Full Fendered '27 Ford T Coupe -392 Hemi with Electornic Hilborn injection
1927 Ford T Tudor Sedan -CPI Vortec 4.3
'90 S-15 GMC pick up
---

March Performance could probably put a system together for you. They have parts for Mopars. Like the other system, they ain't cheap.
Bob

A good friend will come and bail you out of jail....but a true friend will be sitting next to you saying..."Damn....that was fun!
---

thanks everybody. mopar34 i'll ck that out.
---

Sure man, March Performance has what you want at decent price. I'm lusting after one myself
---

I have two cars, went with March on one, and speed & performance on the other. Both will do the job, Reality is.. The March was/ is far superior as far as keeping the show polish, no comparison, only draw back with the March set up, at least on the compact SBC setup is very difficult to do repairs in the field, but that is me and not you! Speed & performance same set up, well.. very easy to work on just basic.. you know 1/2" 9/16th what ever.. draw back in my case, was S&p customer support, I do not wish to put one down, but in my case it is what it is.I have had to repolish S&P twice, no way will I do it again!
---