Irish Diplomacy ..the ability to tell someone to go to Hell ,,So that they will look forward to to the trip

---

Sorry for venting a little, but my dander gets up every time someone says a derogatory comment about tunnel rams on the street.
BUILD'EM, DRIVE'EM, BREAK'EM
---

I looked at some old National Dragsters and the record was in the higher 9s, not mid nines back then--- 283+.030, knife edged crank, the then new iron angle plug heads, edelbrock t-ram, sideways mounted carbs, MSD 7 ignition(before al) shifts around 11000, doug nash 5 speed
---

i aint worried about street use haha. my buddy hasone on a camaro been ont here since the late 80's works great.

jerry- pm sent
---


img_0607.jpg
BUILD'EM, DRIVE'EM, BREAK'EM
---

I had a black '67 Camero that had a 283 4bl, 4spd, posi, with 131k. I got spring fever and changed the cam, headers, 2x4 tunnel ram. It was fun, till I hit a 4" round patch of ice on the on-ramp on to the freeway, and the peddle was to the metal, and I was pulling gears, then the tac pegged and bang! my brother was be hind me in his '69 Camero, and said the flames touched my rear spoiler. we never did find most of one cyl, a piston with half the rod, and another rod with wrist pin only bent 90 degree, but we knew where it left the block/pan. It only made it to 132k. So I put my 454 in.
That was back in about '75.

Pat
HemiTCoupe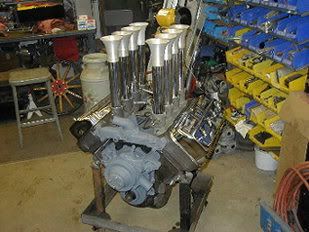 Anyone can cut one up, but! only some can put it back together looking cool!
Steel is real, anyone can get a glass one.

Pro Street Full Fendered '27 Ford T Coupe -392 Hemi with Electornic Hilborn injection
1927 Ford T Tudor Sedan -CPI Vortec 4.3
'90 S-15 GMC pick up
---

how hard were those 132k miles?
---