Quadrajet jets change


I've searched, and even looked through the Quadrajet book I have. The information is either much more than what I need (and too complicated), or does not really tell me what I need to know.

I need a step by step to swap out the jets. I know I have to take of the 6-8 top plate bolts, but I believe I also have to disconnect the linkages. I have been told this can be tricky. Then I'm not certain where the jets are.

This was a fairly simple job on the Holley, just haven't spent alot of time on qjets before.

Thanks in advance.

BTW - will I need a new top plate gasket, or will I be able to reuse the existing one?

---

How old is the carb? If it's been on the car a while you should probably pick up a rebuild kit anyway, even it is just for the airhorn gasket. You will need to know the carb number which is usually stamped on the front of the carb or on the choke housing.
The "jets" in a Qjey are stepped rods and look nothing like the Holley jets. They hang on linkages that work with the throttle linkage.
Try this link for some info...
http://www.tocmp.com/manuals/Carbs/R...QJet/index.htm
Why are you wanting to change the metering rods? If your carb is pretty old it may need a rebuild...
Mark
Last edited by astroracer; 07-16-2007 at

09:40 AM

.
---

The carb is a Jet performance products carb, only a month old. Definitely don't need a rebuild.

I do not plan on changing the metering rods, maybe I mis-typed.

Only thing I plan to do is to change out the jets, as I am running rich at most rpms.

Thanks for the link, I will read up on that. I plan to do it this weekend. I don't really think it's rocket science or will be that hard, I was simply looking for the most guidance so I didn't bend anything or screw something up.
---

Take a look at this link:
http://www.4wheelnoffroad.com/qjet.html

There is a lot of good info there. I am inclined to think that maybe your jets aren't your problem if the carb hasn't been modified already. Qjets are pretty forgiving if they are in good shape. I rebuilt a qjet recently using only the instructions provided with the kit and it worked great. Make sure your float is set correctly.
---

Verify the float setting like 65ny said. Qjets are much more sensitive to the float settings then the side or center hung squarebore carbs.
---



Originally Posted by

65ny

Thanks guys, I very much appreciate the info. I have heard very good things about Jet performance. I would be surprised if there were any of the settings off standard. When I got the carb, it looked better than new, and runs quite well. I will however check the float height while I am in there.

The reason I believe it is running rich is that the plugs are blackened, there is some black smoke, especially on hard acceleration, and the oil smells like gas (not good for lubrication). I did adjust the idle mixture screws to stumble, then 1/4 turn back out BTW. This carb is their stage 2 carb which they tell me has larger jets (they did not know which exactly, but probably #72's) for large engines, and mine is right on the edge of stage 1 and 2 (I am probably putting out in the high 300's at the flywheel).

On a side note, it does have flooding problems at VERY steep angles. Again, I know this is float related, so I will check that out.
---

Go to this forum and post your question, there are a few guys that know quite abit about Q-jets and jeting them and working with the rods.

---> http://www.chevelles.com/forums

Pat
HemiTCoupe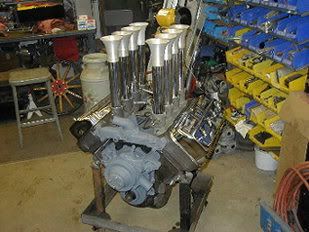 Anyone can cut one up, but! only some can put it back together looking cool!
Steel is real, anyone can get a glass one.

Pro Street Full Fendered '27 Ford T Coupe -392 Hemi with Electornic Hilborn injection
1927 Ford T Tudor Sedan -CPI Vortec 4.3
'90 S-15 GMC pick up
---

I ended up figuring it out for myself. There were a few small difficulties getting those long thin rods back in for re-assembly, but I got it.

This is a 350 bored .030 over with Holley aluminum heads on it, which has a Jet performance stage 2 quadrajet on it. The jets in it were 77's which I think were too large. I switched to 70's. Now I have some bogging when I give full gas, and some flat spotting.

I think I will go to 73's or 74's to see how it does then. Surprisingly, 77's were rich, but not crazy rich, it still ran quite well despite too much fuel.
---