carb question


carb guys : rebuilt 4barrel carb (Rochester quadrajet) on my 454 , set everything as it says in tec sheet.
now I have 2 problems,
I have to prime it if it sits over night or to long &
you have to feather it on take off or it'll die.

acts fine other then that
whats my next step ?whats it sound like?

I'm giving it 2 more days if I can't get it right by then I'm just buying a new one.

"Whad'ya want for nuth'N, ..............aaa,rrrrrubber biscuit... ?"

"bad spellers of the word untie ! "

If your wondering how I'm doing I'm > " I'm still pick'N up the shinny stuff and passing open windows "

---
HemiTCoupe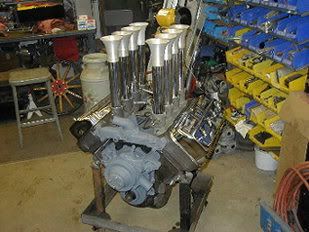 Anyone can cut one up, but! only some can put it back together looking cool!
Steel is real, anyone can get a glass one.

Pro Street Full Fendered '27 Ford T Coupe -392 Hemi with Electornic Hilborn injection
1927 Ford T Tudor Sedan -CPI Vortec 4.3
'90 S-15 GMC pick up
---

Float set too low? Leans the engine too much to start, or accelerate. Vacuum leak? Choke setting? Just because a carb is "rebuilt", doesn't mean it's right.
---

[QUOTE=treekiller] I have to prime it if it sits over night or to long &
you have to feather it on take off or it'll die.

QUOTE]


Fuel pump diaphram faulty?
Accelerator pump linkage incorrectly adjusted? Just grasping at straws here.


Hopefully Denny will chime in, he has helped me out a few times with carb problems. (others have too, I don't mean to leave anyone out)
---

Main well plugs are leaking and causing fuel bleed off after it sits. Accelerator pumps are usually most noticible after it's running and creates a bog or stumble. You need to pull the throttle plate off and tap the pewter lead seal around the plugs to reseal as the factory did. Small ball been hammer works well and I mean small. Don't want you to damage the body. If you wish, after you peen them use a gas resistant epoxy to give a better seal. On a few occassions I have found a leak in the fuel line causing a drain back by siphon action because the rollover valve in the filter was missing or never was installed allowing siphoning. If the choke is still attached, please set it correctly for your engine. As 65ny stated you need to double check accel pump for stroke and make mke sure the hole the rod slips into is correct for the fuel squirt your engine wants.
Last edited by nitrowarrior; 05-21-2007 at

08:01 AM

.
What if the "Hokey Pokey" is what it's really all about?
---


Just trying to update some of my old posts and say "thanks for the help ". didn't buy a new one because what kind of respectable shade tree machanic gives up only after a few trys .

Found the sponge in the box and put it in , also tapped the plugs and covered them with JBweld.

fixed
had to play w/the choke also ...
thanks for the help guys.
T L
"Whad'ya want for nuth'N, ..............aaa,rrrrrubber biscuit... ?"

"bad spellers of the word untie ! "

If your wondering how I'm doing I'm > " I'm still pick'N up the shinny stuff and passing open windows

"
---