Need quadrajet help and suggestions


SBC, rebuilt .030 over. Mild cam upgrade (Lunati Voodoo #2), Edelbrock dual plane intake. Holley aluminum high flow heads w/ rollers, High output HEI. Timing at 13 degrees.

I found a local guy who rebuilds Qjets and apparently knows how to dial them in. He rebuilt a junkyard Qjet I supplied. We tried to run it, and got it ok, but the throttle shafts were wobbly, so he rebuilt again. But the base plate was too far gone, so he used an old one, and had to "create a few holes, etc".

I tried to run the engine and dial in the carb last night with no good luck. Ran WAAAAY rich (my throat was burning). One of the idle mixture screws is loose-ish. I can wobble it pretty good. Also there is a small wetness constantly around the top plate at the front (same as before). When I turned in the idle mixture screws to tune using vac gauge, I could turn them closed and still I was too rich (after warmup). I gave up in frustration.

I am considering just ditching this carb and starting over with a good rebuilt one from someplace like Jet performance. I am already almost $180 in to this carb, and 2 months behind. I need to get this running well in 3 weeks tops, and running well. Holley or FI are not options right now.

I'm open to suggestions. I'm willing to cut my losses and run. I need this to be a reliable, well running vehicle (Jeep).


Edit: I just noticed that the choke vacuum hookup is wrong (like he did it wrong before). I will fix that and re-try, but could this be part of what's causing the problem? Thanks

---

Sounds like you are trying to polish a turd, I would ditch it and start fresh. I hate to say it, but shop eBay. I picked up a new edlebrock for $150. I am selling a nice q-jet up there for $15...
---

I just checked out Jet, and while I am sure they are nice, $580 is WAAAAAY to much for a decent carb.

On the other hand, I don't want to go through all of this again on another crap carb.

So I add to my request, where should I go to get a good Qjet for my engine? It is slightly modified and will put out power in the upper 300's I expect. I want something that is as close to plug and play as possible.
---
---

Many things are present in your pic that raises red flags. But I have to refer to your start of your post when you mentioned the looseness of critical pieces and overflow of fuel, throttle shaft looseness, etc. It's always a great idea to inspect the salvage yard replacement for throttle shaft wear, They shoud be rebushed (bushing kits are affordable). The main concern with all Q-jets is they warp horizontally (left to right) an can be straightened with patience and a bit of skill. I never like to bash anyone, but this guy you're using hasn't got a clue in this area. I looked at the pics and "holy cow", I can't believe a product left the shop door like this. You can use do this setup (and please lose the spacer if possible) if the carb is brought back to specs and integrity of the pieces arealigned and squared. I would always avoid off the shelf rebuilds because they are not thouroghly cleaned of abrasive materials used in cleaning processes. The tendency to plug important emulsion tubes and ports seem to be the common problem for "rebuilt" units from suppliers. If you're willing to purchase a Q-jet book from Rodale Press, You would be enlightened as to the info that they supply for the do-it-yourself kind of effort. Post more if you need help. I hope this helps you.
Last edited by nitrowarrior; 04-04-2007 at

06:33 AM

.
---

Thanks for the complete reply. The carb was not rebuilt by a shop, it is just a guy in his garage and was recommended by a friend of mine as being a Qjet guy. I know I was taking a risk on him, and I might end up here. I should have known better, but instead of saving money, I wasted 2 months and too much $$.

He did use a different baseplate since the original one could not be rubushed and cracked. He also said he resurfaced the baseplate and main carb body mating surfaces.

My concern is that working with this guy will get me nowhere, and working on this carb will be never ending. I need this thing done NOW. At least running decent.



I saw the Modeski racing carbs on Ebay and checked out their site. They look nice, I may go for one of those and just be done with the hassle.

BTW - it's not a spacer, but an adaptor. I tried to get the thinnest one I could. It is actually an open bore (instead of 4 holes). If you know where to get an adaptor to put a Qjet on Holley style intake (which has 4 holes), please let me know. They all seem to be the other way around and cannot be flipped.

Thanks again for replies so far.
Last edited by pnut; 04-04-2007 at

06:48 AM

.
---

Which Holley manifold?............it's been a long time since aftermarkets did not utilize both bolt patterns. In th emean time, without looking at the carb and doing a "hands on" feel for it, I would suggest dropping the float level and make sure the squirter (accel pump) is still getting adequate fuel to give a decent shot at picking up fuel in it's resevoir for proper "shooting". It's not hard to achieve but with a little bit of perseverence, it is not hard, maybe 4-5 minutes of leaning over the grill and tightening your gut muscles. This is not writen in stone, but start the idle mixture screws at 3-1/2 turns from base and tune accordingly (but slowly backing them out. I have a feeling you'll be replacing this carb, but for now you can make this work. One little bugaboo these things have is the gaskets used can somrtimes have extra holes drilled for vacuum use (accessories,etc) and give bad readings to the fuel demand. Please double check power piston travel for smooth operation (the brass piston that holds primary rods). Any other questions, Let me know. There are combinations for primary rod/jet sizes than can really give you a mild headache.
---

Sean Murphy Induction sells rebuilt Q Jets that are primo. He does all of the shaft bushings, etc. We have bought from him; they ask basic stuff about your engine and when you get the carb, you bolt it on and go. The thing is correct right out of the box.

His web page is

http://www.smicarburetor.com/products/?sfID1=28&sfID2=9

I recommend these boys.

Mike in Tucson
---
HemiTCoupe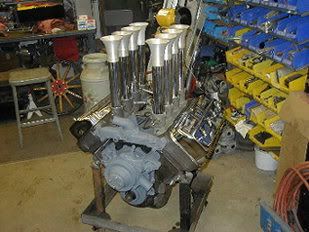 Anyone can cut one up, but! only some can put it back together looking cool!
Steel is real, anyone can get a glass one.

Pro Street Full Fendered '27 Ford T Coupe -392 Hemi with Electornic Hilborn injection
1927 Ford T Tudor Sedan -CPI Vortec 4.3
'90 S-15 GMC pick up
---

Thanks for all the replies.

I have ditched this old carburator in favor of a nicely rebuilt on from Jet performance. So far so good, it runs great now.

Still doing a bit of dialing in of the timing and distributor advance, but otherwise looking VERY good.
---



The main concern with all Q-jets is they warp horizontally (left to right) an can be straightened with patience and a bit of skill.

How? Refacing I suppose?
There is no limit to what a man can do . . . if he doesn't mind who gets the credit. (Ronald Reagan)
---