build up on a 265 engine


A group of us were discussing different engines that we've worked on and the 265 came up. Has anyone ever worked over a 265 chevy engine to see how much it could be bored and stroked, larger than the 283 and then see how much HP and torque was available?

Keep smiling, it only hurts when you think it does!

---

I doubt there are many of us on this board who even REMEMBER this motor, much less having built one.

For those of you who don't know, this was the bread and butter V8 that was original equipment in the '55 and '56 Chevy. Dimensions were 3.750 x 3.00, so you might think of it as a de-stroked 305 (3.736 x 3.48).

I can remember like it was yesterday when I first encountered a cammed-up 265. It was a '56 with a 30-30 Duntov cam and idled like you were saying potato-potato-potato-potato. Funny, like I said, I was 14 and remember it vividly.

I doubt if you'll find anyone who seriously wants to build one unless it is for a numbers-matching restoration.
PLANET EARTH, INSANE ASYLUM FOR THE UNIVERSE.
---
Buying parts I don't need, with money I don't have, to impress people I don't like

---
---

even if you bored it .125 it would only be a 283. it would be fun to have in a light street car or something for something really different but nothing serious.
---

I picked up one last year at the crusher yard in a 2 1/2 ton 56 truck. It has a L56 code and is all STD. I got it for the crankshaft, incase I ever need it for my 283. Only prob with it has no side mounts. It could be built and put in my 55 car since the car still uses front mounts.
I have an old desktop dyno but playing with it, the smaller the cubic inch you go the HP seemed to be the same or slightly higher the smaller you went on cubes when using a Turbo.
---

The cam also has a oil grove around it.

Pat
HemiTCoupe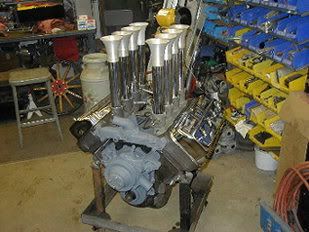 Anyone can cut one up, but! only some can put it back together looking cool!
Steel is real, anyone can get a glass one.

Pro Street Full Fendered '27 Ford T Coupe -392 Hemi with Electornic Hilborn injection
1927 Ford T Tudor Sedan -CPI Vortec 4.3
'90 S-15 GMC pick up
---
Another tidbit

The 265 had the most pathetic exhaust manifolds ever put on the SBC..
---

I knew about the lack of a built-in oil filter boss and the oil groove in the cam but my memory was when I was running parallel to a puke-salmon colored '55 hardtop in my mild .030 over (244 ci) 59AB '47 Ford and for some reason I just could not pass that thing! At that time Chevies were looked down on by the Ford flathead fans and rightly so because the six was underpowered and the bodies tended to be heavy; although I will say I still have admiration for a solid black '40 Chevie coupe which is a fine looking body (never mind that slow vacuum shift thing). That salmon '55 was just playing with me and could walk away from any 59AB Ford although maybe a '50 Merc would offer more competition with nearly equal displacement. Just some old memories of what was a big surprise then (Fall of 1955).

Don Shillady
Retired Scientist/teen rodder
Last edited by Don Shillady; 11-03-2008 at

09:41 AM

.
---

werent they ramhorns? ramhorns actually flow pretty good if you get the bigger ones.
Last edited by gassersrule_196; 10-28-2008 at

11:41 PM

.
---

Regarding oil filter boss, the 55 did not have one but the 56 engines did.

On the block, there was a raised ridge along the top just below the head mating surface (on the outside).

There were no motor mount bosses on the sides (common to 283 engines up to 1959)

It has a rope rear seal just like the 283 block up to 1959.

There was no starter mounting holes in the bock (also common to 283 engines until the aluminum powerglide was introduced)

The cam had the flat for oiling on the rear bearing

There is zero performance advantage in using a 265 block. Zero, regardless of what you do. They have only restorer value. Most have been melted down to make nodular iron water pipe....like Tyler Pipe in Tyler Texas...they use engine blocks and heads because of the quality of the raw metal.
---

of course not but it sure would be cool to see somebody do one up just for the nostalgia factor. a few 265's actually held nhra records back int he day
---



Originally Posted by

robot


The side motor mount bosses did not appear on sbc's until 1958.
Ken Thomas
NoT FaDe AwaY and the music didn't die
The simplest road is usually the last one sought
Wild Willie & AA/FA's The greatest show in drag racing
---



Originally Posted by

gassersrule_196


We used to have a racer around here, last name was Bickelmeier--ran a '55 or '56 chebbie in N stock(if I remember right on the class). Anyway, he held the National Record for a number of years. Haven't heard about him in years, but he ran the 265 engine and zinged the heck out of it....always wondered how much time and money to get it to pull that hard, especially with the strict rules in Stock Eliminator at the time---Way back in the mid to late 60's whenever there was a points meet at Thunder Valley in Marion, SD you could count on him being there and running strong!!!!!
Yesterday is history, tomorrow is a mystery, Live for Today!
Carroll Shelby

Learning must be difficult for those who already know it all!!!!

---

There used to be a guy here in the Southwest that ran in the same class that John Ryan and I did (B/Modified Roadster) in the very early sixties.

The guy's name was Jess VanDeventer, and I probably royally screwed up the spelling of jess's name. He ran a very light weight car and used a 265 in order to comply with the pounds-per-cubic inch ratio requirement for the class.

You might say he ran well ..... he held the NHRA class records for quite a while!

I remember several people using 265's for the same reason Jess did.


Jim
---