bbc tri-power vs single 4


question I'm continplateing useing a stock tri-power on my big block chevy 454 verses a single 4 just for looks in my street rod with a mild built motor what are the cons vs pro's.

---

I owned a '68 427 Tri Power Vette. Had 9 carbs of which 3 sorta worked OK. What they did best though was wash down the cylinders.

Never again for me. Went to a 4 barrel and engine ran MUCH better.

Kitz
Jon Kitzmiller, MSME, PhD EE, 32 Ford Hiboy Roadster, Cornhusker frame, Heidts IFS/IRS, 3.50 Posi, Lone Star body, Lone Star/Kitz internal frame, ZZ502/550, TH400
---

More carbs the better it looks to me!
I have run 3x2's on many motors for years and never had problems with them! You just need the right carb's and tuned right, just like any other carb setup.

If you do a search on here you'll find lot's of good info on repairing them and tuning them.

Pat
HemiTCoupe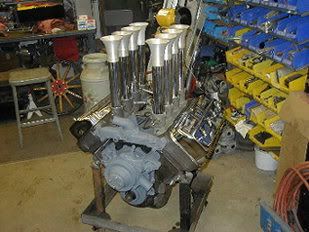 Anyone can cut one up, but! only some can put it back together looking cool!
Steel is real, anyone can get a glass one.

Pro Street Full Fendered '27 Ford T Coupe -392 Hemi with Electornic Hilborn injection
1927 Ford T Tudor Sedan -CPI Vortec 4.3
'90 S-15 GMC pick up
---

Really comes down to do you want to go fast or look good??? Tri-powers really do look nice, but with the extra expense and time of building and maintaining multiple carbs I'll go with a single four barrell everytime!!!!--and still love to build engines with dual fours and tri-powers cuz they are just sooooooooo kewl!!!!!
Yesterday is history, tomorrow is a mystery, Live for Today!
Carroll Shelby

Learning must be difficult for those who already know it all!!!!

---

That's the bottom line........in most cases a single four barrel is a very close match to what an engine needs and they run much smoother and troublefree than any multiple carb setup. But to me they just look lost on a hot rod, especially a hoodless one.

So, do you want smooth or cool?

Don
---

Give me three for looks, but just one four for no problems.
Keep smiling, it only hurts when you think it does!
---

Nothing cooler or MORE Hot Rod than multi carb set-ups. I have been running them for a lot of years, not sure how much or better they are supposed to be but they are cool.

Today there is really no reason for a multi carb set-up not to be just as reliable as a single four barrel, or just as trouble free. Barry Grant makes new 2 Brl carbs for a tri power and the Demon carbs are much, much better than anything that was available "Back In The Day". It may not be as cheap as running a single 4 brl but cool does come at a cost sometimes.

RS

Protected people will never know or understand the intensity life can be lived at. To do that you must complettly and totally understand the meaning of the word "DUCK"
---